Applications

A flexible robotic palletizing system can enhance your throughput, reduce your costs, and improve your safety
Bag Palletizing
Our robotic palletizers can handle virtually any type of bag including open-mouth, valve and FFS bags. We have proven ourselves as robotic bag palletizing experts. Whether you are looking for a higher production rate or need more flexibility, our systems have been designed to address almost any application.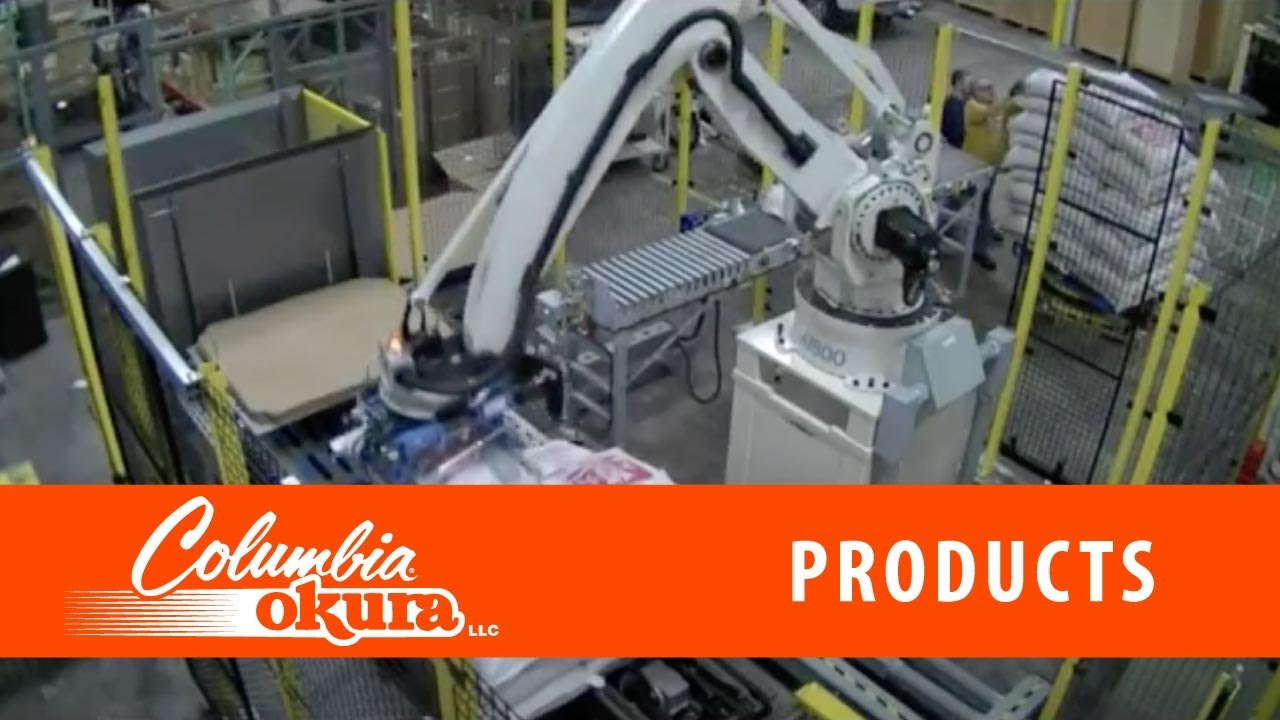 Palletizing a Variety of Bags
Watch the video to see a variety of systems we have done over the past year.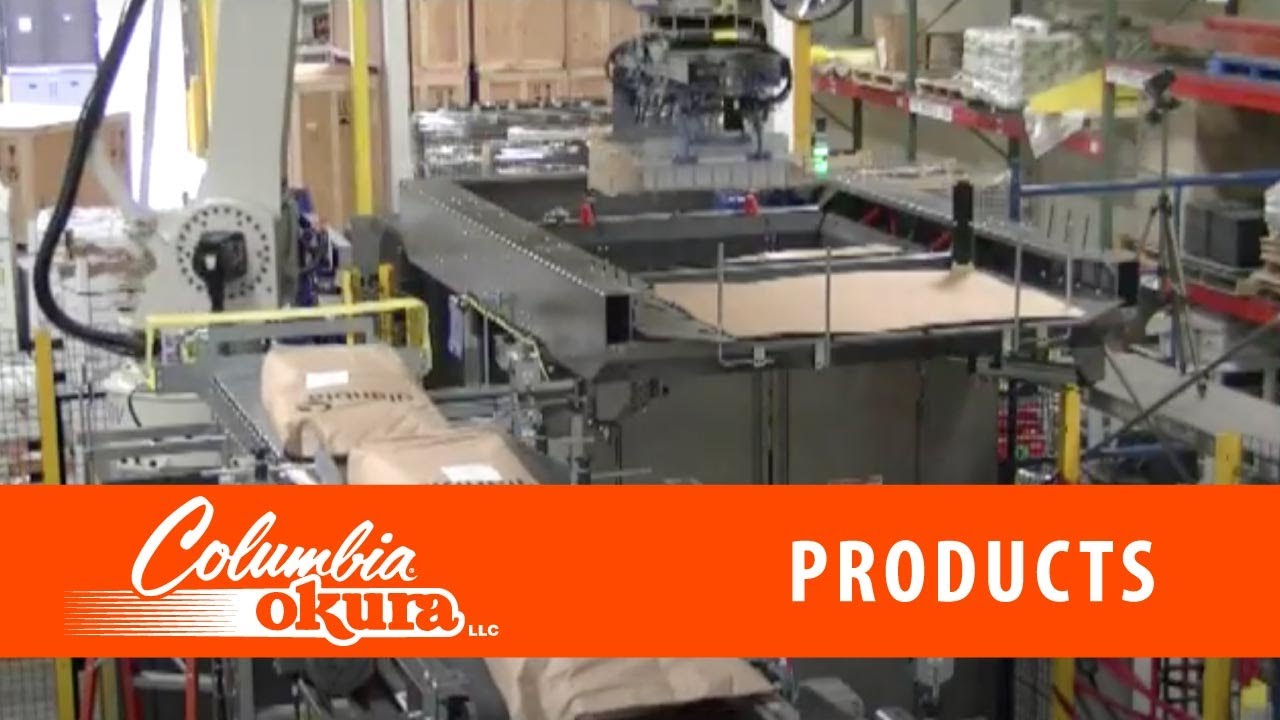 Single Line Stack In Bin System
Single Line Stack In Bin System if load compression and 4-sided load constraint is critical, our hybrid stacking bin is the solution for you.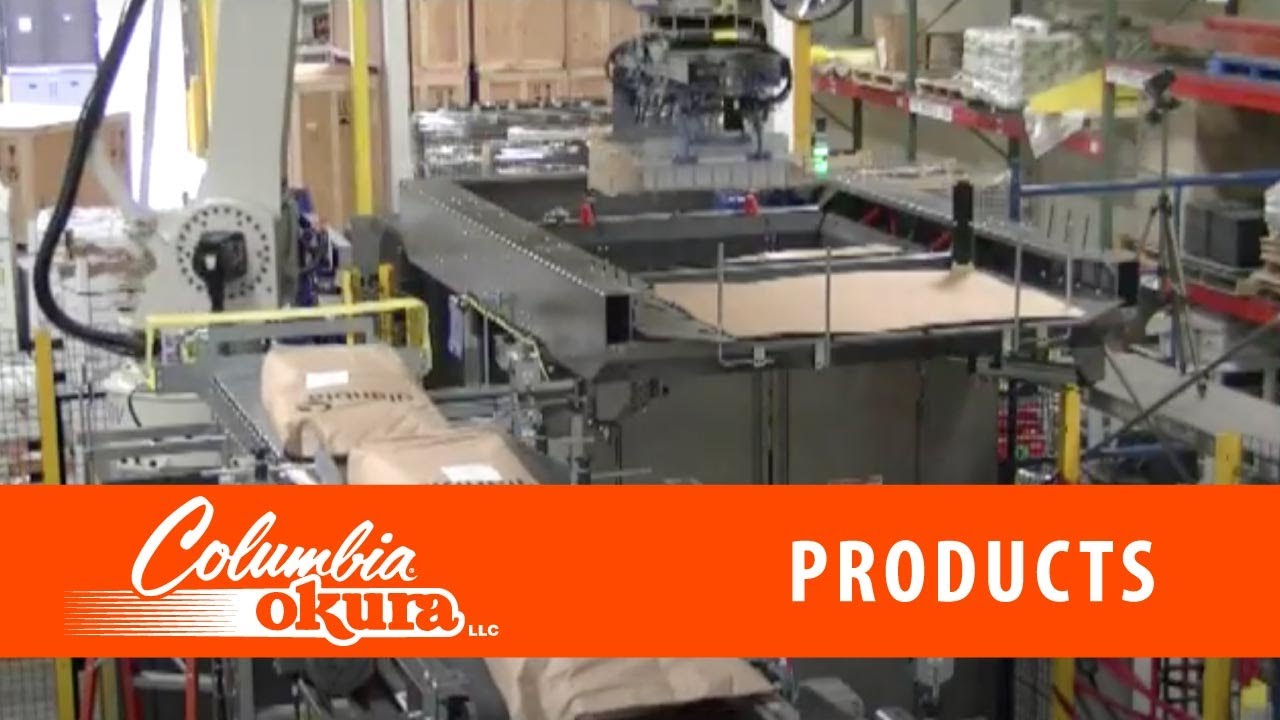 Two Line System
There are many different ways to stack your product, watch the video to see how our two line system stacks bags.
I have had better service from Columbia/Okura than any other vendor I have.
— Bill Baron, Imerys Pigments
Drum and Pail Palletizing
Columbia/Okura robots can handle pails and drums of all shapes and sizes by utilizing mechanical or vacuum end effectors. Our team will apply the right tool for your products' palletizing needs.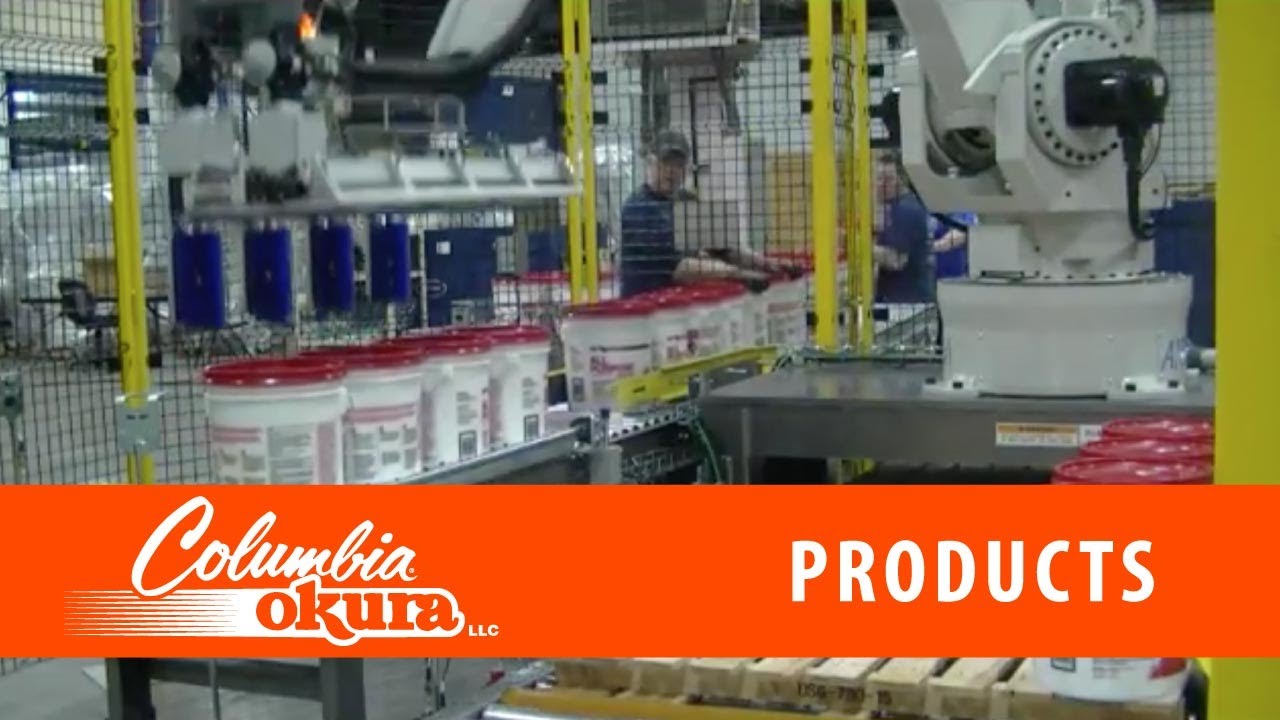 One Line Pail System
View examples of our vacuum end effector.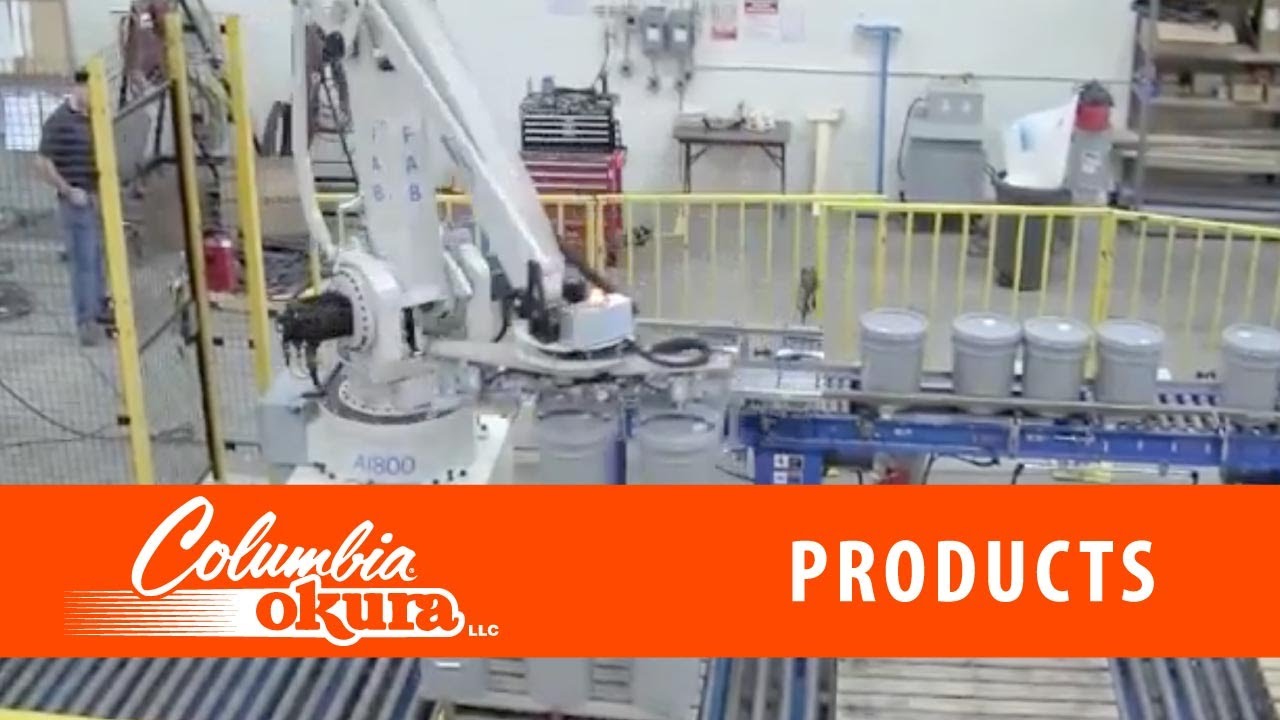 One Line Pail System
Need your product stacked quickly? Let our robot do the work.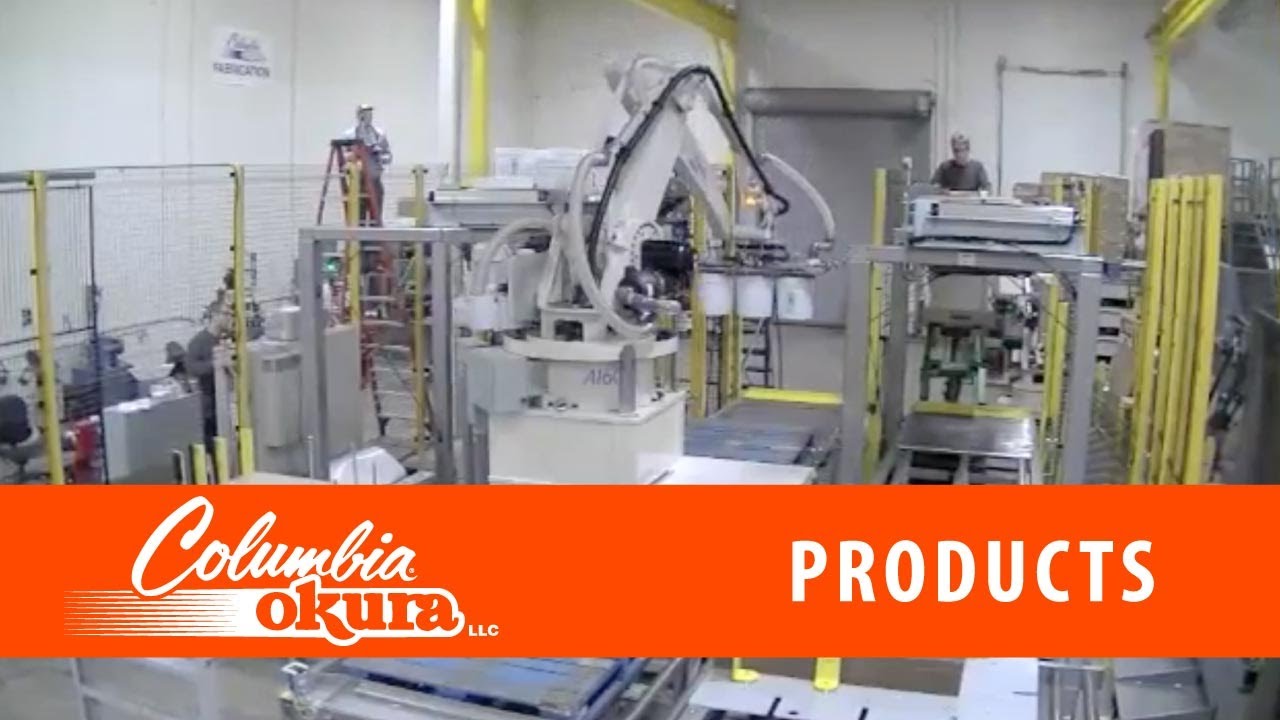 Multi line, Multi Product
Do you have different products that need to be stacked? Watch the video to see how we do it.
Columbia/Okura's after hours support is top notch! Not only did they walk me through an error message we were receiving, but they also called me back the next day to make sure the system was running.
— Clyde Selman, Balchem Corp
Case Palletizing
No job is too big or small for our robots. Our case palletizing systems handle a wide range of case types and sizes including RSC, HSC and telescoping cases. In addition to trays, totes, Kraft bundles, poly bundles, and pallets are all palletized with similar end of armtools.
I wanted to share my appreciation for meeting our performance and service expectations with the recent automation project. The quality of work was uniformly high from start to finish and your team looked beyond the current context while trying to preserve operational efficiency. Your team delivered results!
— David A. Sanzobrin, Hood Packing
Multi-Line Systems
Where multiple lines or more than one robot are required, Columbia/Okura has the knowledge and experience to assist you in selecting the right solution.
Our palletizers allow a single robot to manage the output of four lines concurrently. Utilizing our standard end effectors, the robot is able to accommodate varying product sizes and package types with a single tool.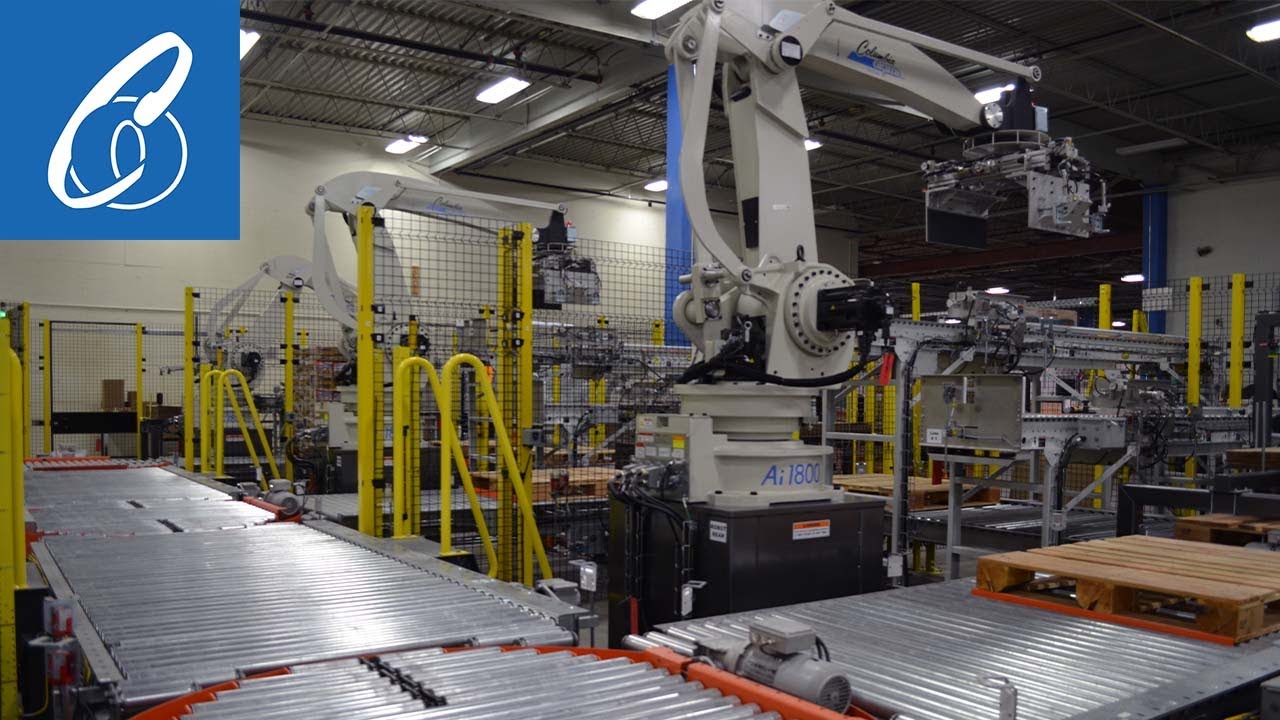 Multi-Line System Overhead Footage
Watch this video to see a multi-line case system that gets the job done.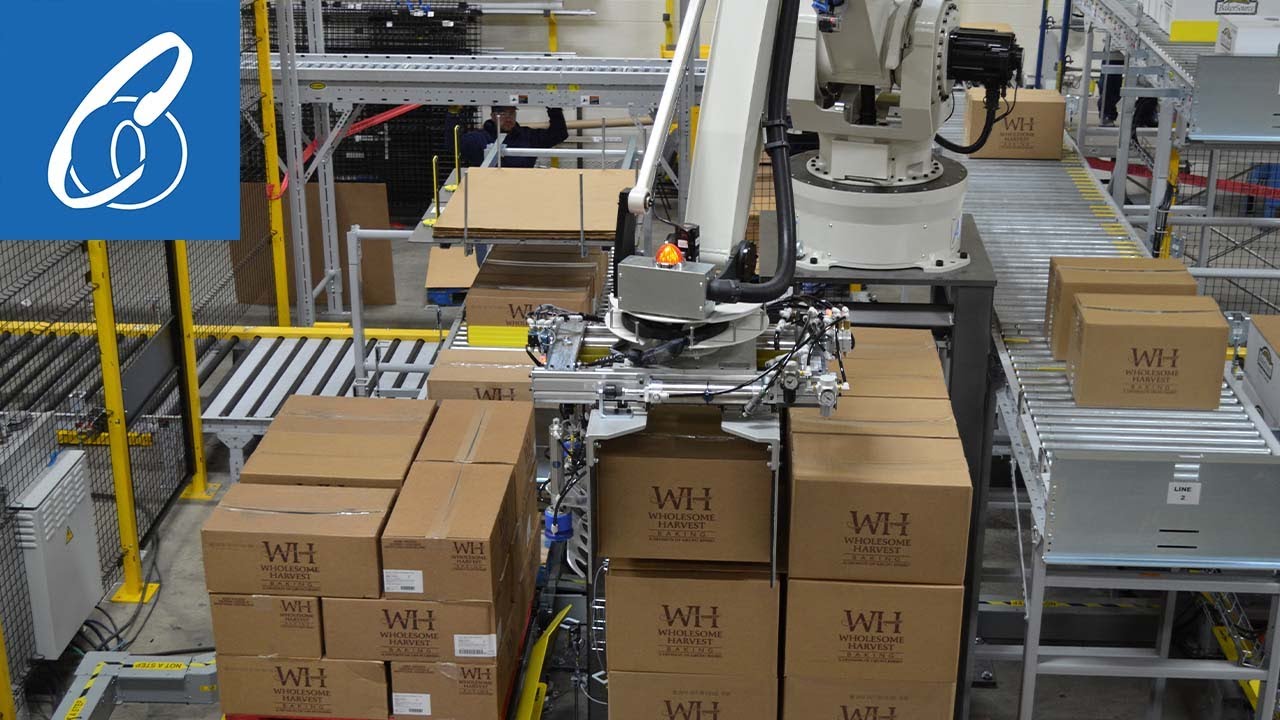 Multi-Line Case System: Different Stack Sizes
Have four different size cases? No worries, watch this video and see how successful we stack a variety of products.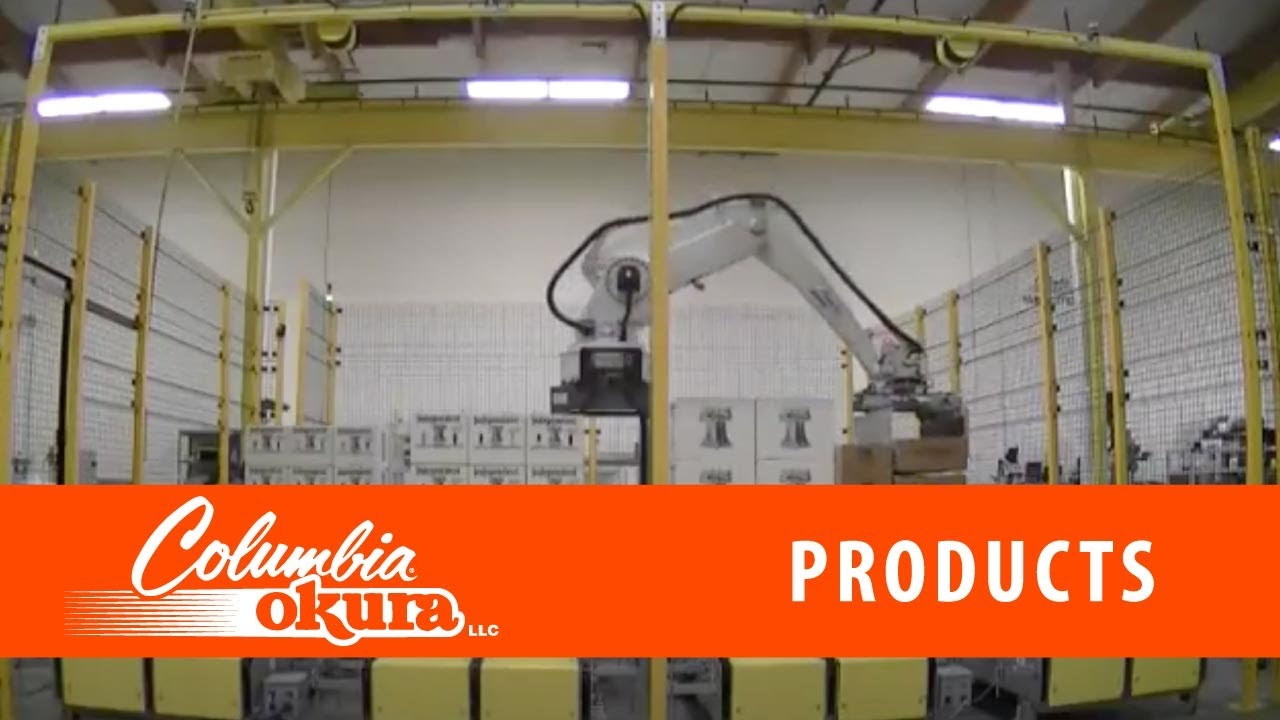 Multi-Line Case System: High Loads
Need to stack your load high? Watch this video to show how our system adapts to height requirements.
I would recommend a Columbia/Okura robotic palletizer to anyone with high volume stacking. I would rate our installation (all four of them) as a significant success in our packaging program.
— Dale Millers, CHS, Inc.
Unique Systems
Is your product unique and does not fit into a traditional category? When standard products do not fit your requirements, we will design a custom palletizing system to meet your needs. Share your project goals and packaging details so our engineers can get to work creating a custom and unique solution.
Stack and Wrap Palletizer
Unique Floor Style System
Multi-Zone Product Handling
Integrating Columbia/Okura robotic palletizers has been the best move we have made in the 21 years I have been plant manager.
— Bobby Jernigan, Tennessee Farmers
Depalletizing Systems
Let us take on the labor-intensive task of unloading products from your pallets. Our solution is designed to provide ergonomic alternatives to manual depalletizing.
All of our robotic palletizers and the miniPAL® are capable of unloading your pallets.
Our miniPAL® 2.0 cobot is an effective depalletizer for your products. Its compact design takes minimal floor space and can work alongside employees utilizing area scanners for safety instead of safety mats. It's operating footprint is just 8' x 10' with two pallets.
Learn More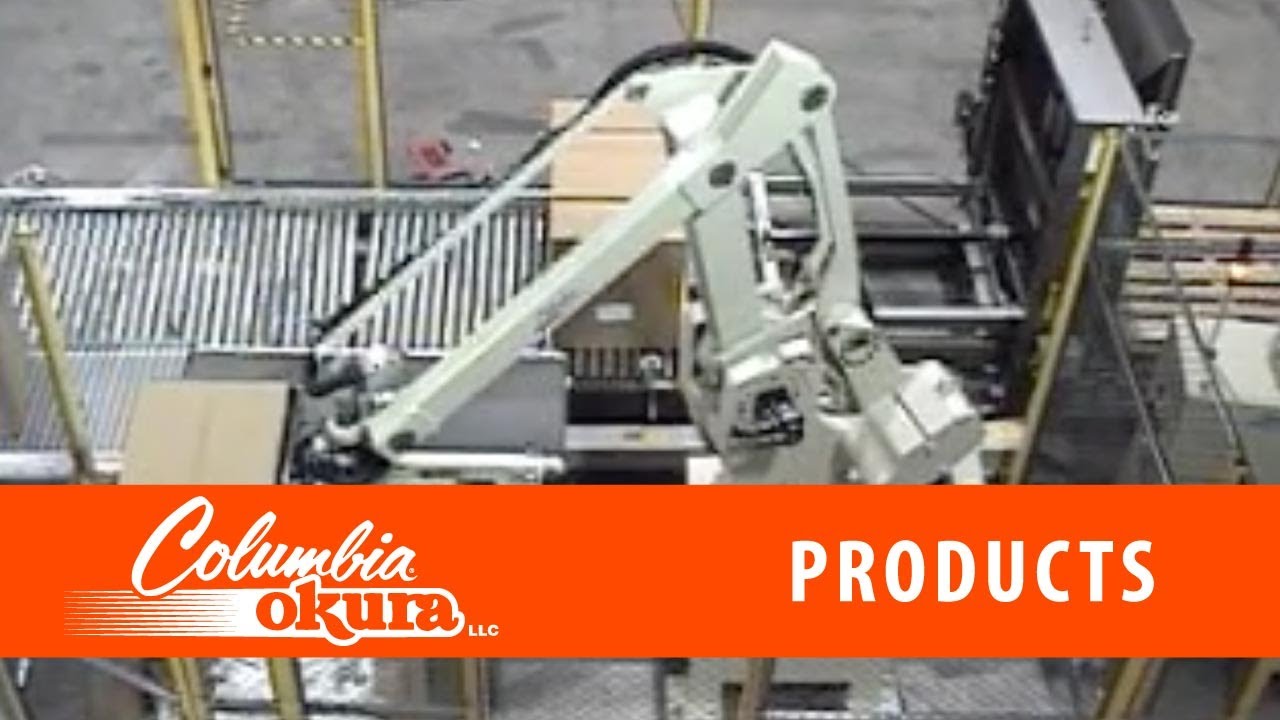 Fast and Easy Depalletization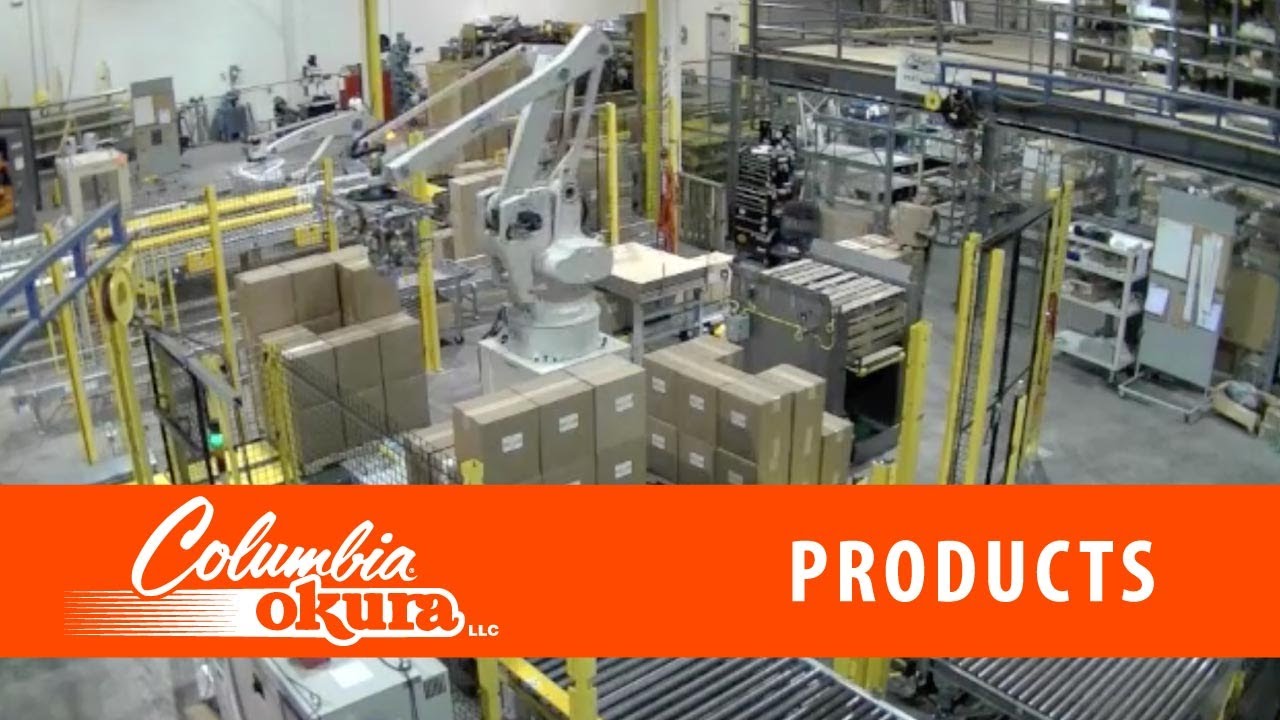 Depalletizing Large Loads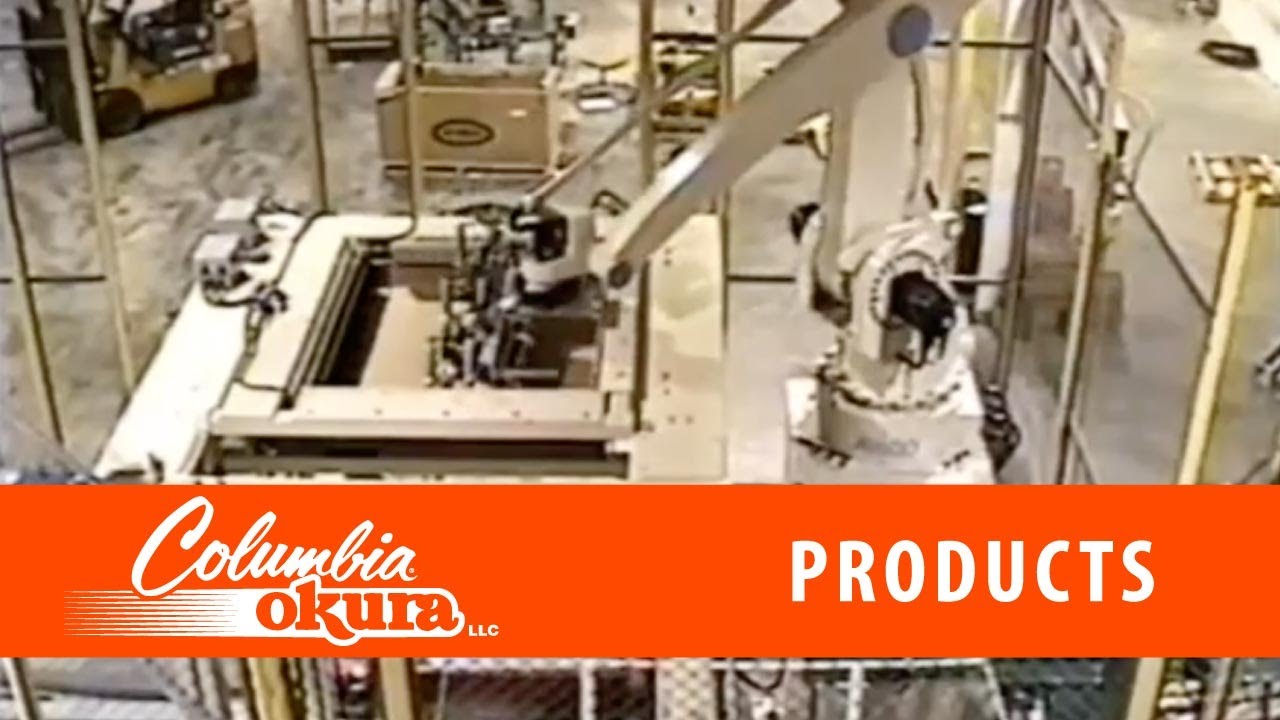 Depalletizing Tall Stacks
Conventional palletizers have the ability to operate at speeds faster than robotic palletizing systems. Robotic palletizing systems excel in flexible and precise movements, where conventional palletizers excel in repeatedly executing palletizing with rapid efficiency. This is why conventional palletizing solutions are used heavily by large scale operations or applications like trays of cans that require extremely fast palletizing to keep up with upstream operations.
In manufacturing industries, robotics are generally used for the fabrication, finishing, transfer, and assembly of parts like in car manufacturing. In material handling industries, where finished products are prepared for distribution, robotics are used for picking, sorting, packaging, and palletizing products. Robotic palletizers are suited to handle virtually any kind of product from bags to boxes, or trays of eggs to larger raw building components.
Palletizing systems allow full pallets to be built and moved faster when compared to manual handling. Benefits of robotic palletizing systems include reduction in labor requirements, faster turnaround times, increased output, and an opportunity for optimum temperatures for perishable products. For robotic palletizing solutions specifically additional benefits include, conserving floor space, flexible programming for product handling, and the ease of integrating into existing production lines.
Among the many factors to consider are production rate, product quality, product type, pallet quality, and choosing the right robotic integrator. Other key factors include plant safety, floor space, ROI, and importantly, after-sales support. Choosing the right robot for your production facility requires close collaboration with the robot integrator to fully evaluate the challenges of your specific job. 
For most companies increasing speed is the ultimate goal, however, with recent labor shortages, businesses are looking for reliable solutions to assist in increasing productivity. Robotic palletizers can run all day with reliable load quality, allowing not only for the increased throughput, but also in the standardizing and quality control of the produced load. Robotic palletizers integrate into existing production lines much easier than larger conventional options.
Keeping the system in good condition by providing regular maintenance, cleaning, service, and repairs is important for ensuring a robotic palletizer have a long life. It is also important to ensure proper training for everyone who is operating the system. Poor installation or initial set up can also have adverse effects. By maintaining a regular preventive maintenance schedule, you are extending the life of your robot.
It is recommended to schedule your robot for preventive maintenance every 12 months, or after the robot reaches 10,000 hours. Smaller daily inspections and cleaning will also help the equipment clean and running as intended.
The ANSI states requirements for the manufacture, remanufacture, installation, and safe guarding methods to protect those associated with the operation of industrial robots. These guidelines are also associated with the Robotic Industries Association (RIA). The ANSI/RIA R15.06-1999 is the most extensive ANSI standard, but the most recent version is the ANSI/RIA R15.06-2012. This latest ANSI standard is an adoption of the ISO safety regulations in order to achieve global compliance with international guidelines for easier use and sale of industrial robots.
Before reaching out to a system integrator to get a price quote, there are five steps to follow to make sure you are making the best choices when starting to automate. Skipping these steps could result in projects that are cut short, drag on too long, or never get off the ground:
Step 1: Get company-wide support
Step 2: Get a consensus on the scope of the project
Step 3: Get consensus on the tolerance of failure
Step 4: Prepare the budget
Step 5: Gather information
Industrial robots typically require a large upfront investment, so it's important to consider all the costs of industrial robots, including installation and configuration. You should also evaluate goals in future operations so that the robotic system is well designed for expansion within your production facility. While industrial robots will reduce manufacturing labor costs, it is important to budget for ongoing expenses to maintain the equipment to minimize downtime.
We currently have three Columbia/Okura robots, two of which are over 10 years in operation. Problems have been few and far between. With another large project involving palletizers in the works, I know that I can count on Columbia/Okura to get the necessary results.
— Andy Carrier, White Rock Distilleries
Let Us Build A System


That Fits Your Needs
Send us your product, and we will prove we can stack it. With multi-line capabilities, our demo systems can handle any product.