Cobots

Our miniPAL® cobot line are collaborative robots or cobots with compact designs to work alongside employees safely
A cobot, or collaborative robot, is a type of industrial robot that can work safely alongside people. Unlike traditional industrial robots, a cobot does not need safety guarding to protect employees from interacting with it, instead they use sensors and an auto stop function to allow people to work next to them safely.
Their flexibility and ability to adapt easily for different products make them extremely useful for production lines and manufacturing. They are also typically smaller and lighter than other robots, therefore they can be moved to different locations more easily than traditional industrial robots.
Columbia/Okura is excited to offer the new miniPAL+ as part of an integrated system in 2023. The cobot features the new UR20 collaborative robot, by Universal Robots, with an increased payload capacity, farther reach, and faster palletizing abilities than our current miniPAL®.

The UR20 cobot is the first of Universal Robots' next generation of high-performance industrial cobots, and is designed to take performance to new heights.

To learn more about the miniPAL+ and register your interest in our latest cobot, contact our team.
Contact Us
Specifications
Load Capacity
27.6 lbs (including end effector)
Lifting Capacity
Cases
5-8 picks per minute (pattern dependent)
Power
miniPAL® Cobot
The miniPAL® cobot features the UR10e robot from Universal Robots. The compact design includes a more narrow frame and cover than our previous cobot. The miniPAL® features lifting columns for tall loads, dual stacking locations for continuous load building, built-in fork pockets for easy mobility, and area scanners for safety instead of safety mats. With intuitive pattern building software designed to be smooth and flexible in partnership with
Rocketfarm AS
, the cobot is easy to have up and running quickly.
Palletizing simulator by Rocketfarm
Columbia/Okura partners with Rocketfarm to provide a user friendly software package for usage within our collaborative palletizing robots.
Rocketfarm now provides an online simulation tool, allowing users to add product specifications in 3 easy steps and receive palletizing layouts and suggestions within one hour.
miniPAL® Cobot Benefits
Quick Payback Average payback is between 8-10 months, depending on application and industry Flexible Deployment Our mobile cobot solution is easily moved and re-deployed to new processes No Guarding Required Most applications work next to people without perimeter guarding Easy Operation No previous programming experience required Efficient Setup Takes less than a full day; plugs into 110V AC wall power
miniPAL® Footprint
The miniPAL® cobot's compact design takes minimal floor space and can work alongside employees for most applications with no guarding. It's operating footprint is just 8' x 10' with two pallets. The plug and play, 110 volt, self contained unit is capable of palletizing cases, trays, spot-packs, and other packages onto any pallet up to 48" x 40". It has continuous load building capabilities up to 84" load heights onto two pallet locations.
UR+ Application Kits
The Columbia/Okura miniPAL® is certified for the UR+ Application Kits. These kits streamline deployment for the most popular cobot applications by combining multiple components on the UR+ platform.
Find Out More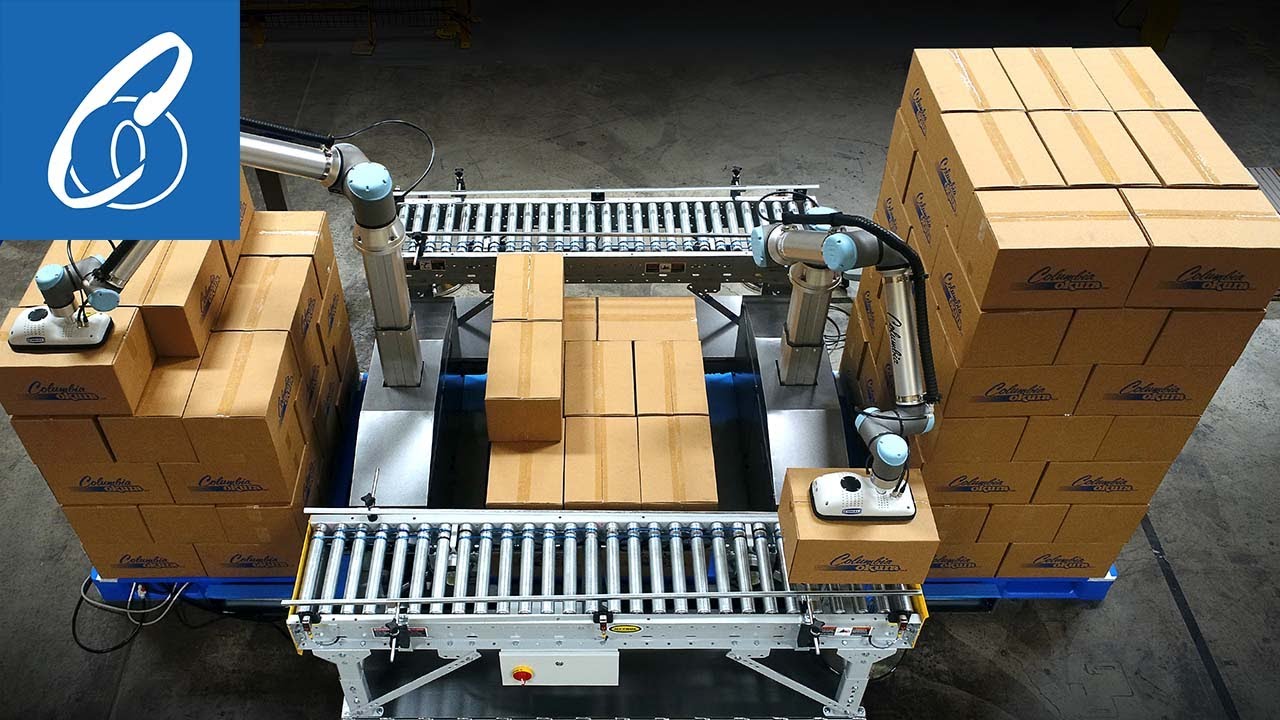 Introducing the miniPAL® Cobot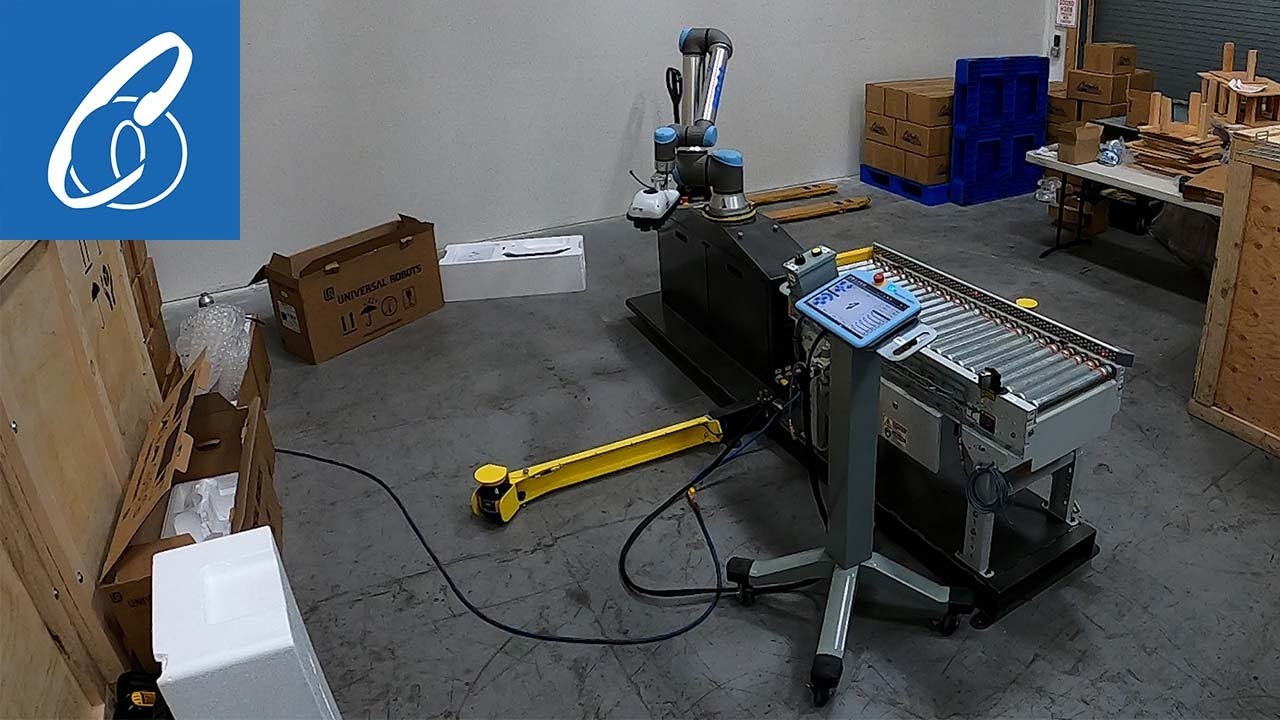 miniPAL® 2.0 Assembly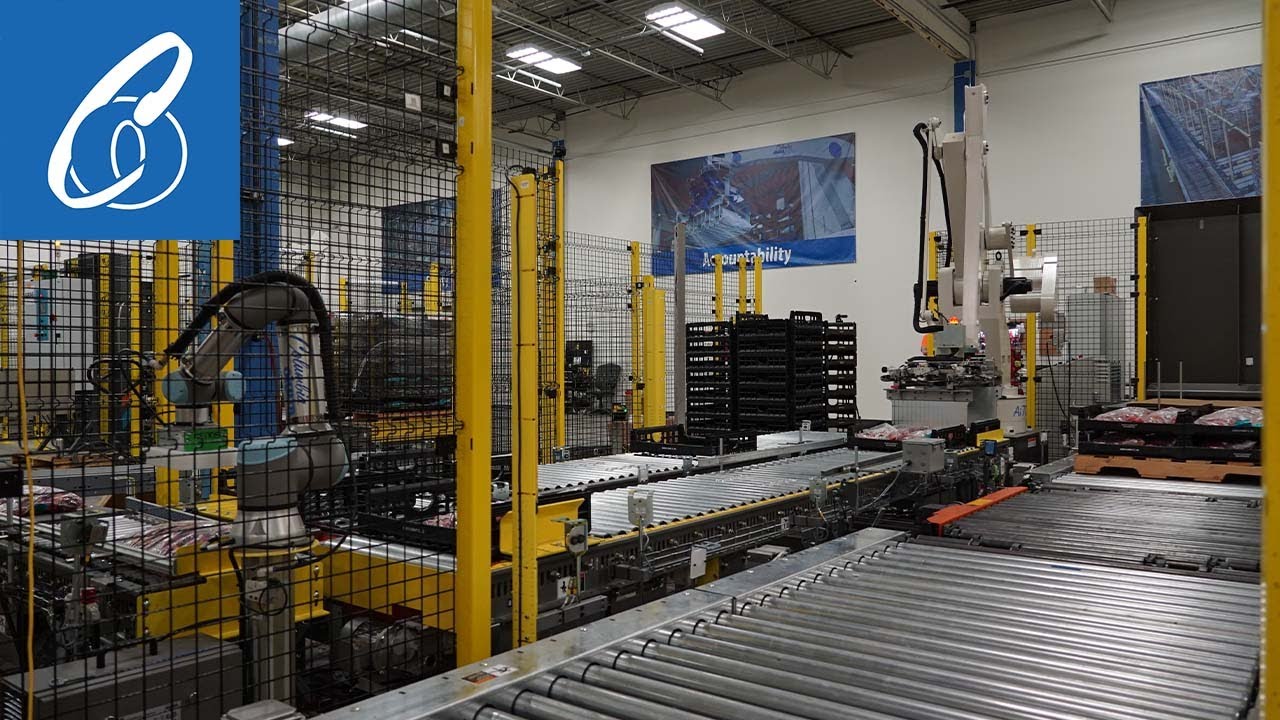 miniPAL® Cobot Demonstration
A cobot, or collaborative robot, is a robot intended for direct human-robot interaction within a shared space, or where humans and robots are working in close proximity. Cobot applications contrast with traditional industrial robot applications in which robots are isolated from human contact. These collaborative solutions often best service slower production lines that have a constant stream of product that is allowed to palletize over a long period of time.
Hand Guided cobots use articulated arms that are manually moved by an operator to more easily lift and move product. Safety Monitored Stop cobots use radar or other safety monitoring equipment to sense when an operator enters a cell, stopping the robot until the area is clear. Speed and Separation cobots are similar to Safety Monitored Stop cobots, but uses advanced safety equipment, allowing the cobot to detect and slow the speed based on proximity of the operator to the arm. Power and Force Limiting (PFL) cobots use both safety monitoring equipment like safety scanners as well as force limiting technology within the arm to sense contact and immediately stop when contacting an operator. 
Cobots are Collaborative robots that are cost-effective, safe, and flexible to deploy. Collaborative robots - or cobots - are making automation easier than ever, even for small and mid-sized companies around the world. Cobots are designed to share a workspace with humans, allowing for small footprints, guarding free cells, easy relocation around a facility, and safe working environments. All of these benefits have made our cobots a game-changer for a wide variety of applications ranging from palletizing and depalletizing, to label application.
Among the many factors to consider, safety should be the primary consideration so that the system can run reliably with its operator. Other factors include simplicity of deployment, application type, footprint, ease of programming/operation, operational workflow, capital budget, risk assessment, training and, of course, reliability of provider. 
Cobots are more consistent and more accurate than humans when performing a repetitive task. A cobot can run on a single 110v outlet and compressed air indefinitely, reducing downtime in the production line. It also allows operators to do other tasks like moving finished loads while the robot continues to palletize. With labor shortages in previous years, there has been an increased interest in automation.
Keeping the system in good condition by performing visual checks of all key parts and providing regular maintenance, cleaning of sensors and optics, service, and repairs. Additionally, cobots needs proper airflow to ensure they do not overheat. It is also important to ensure proper training for everyone who is operating the system. Poor installation or initial set up can also have adverse effects.
Conduct all maintenance, inspection, calibration, and repair work according to the latest version of the Service Manual provided by your integrator. Repair work should only be done by authorized system integrators. Client-designated, trained individuals can also do repair work, provided they follow the inspection plan outlined in the Service Manual.
Columbia/Okura's cobot is designed to be as safe as possible, utilizing safety scanners to actively monitor the cell. The ANSI is the U.S. safety standard for regulating the proper use of safety devices integrated with robots and robotic systems. It also provides guidelines for the integration of robots in manufacturing facilities or other work environments. The primary way to remain safe when using a cobot is to ensure all users are trained properly and follow the guidelines provided.
Cobots can be added to existing manufacturing or plant processes with ease. Not all processes are created equal, but an exact application should be considered before adding a cobot. Cobots offer the unique advantage to manufacturers of filling labor gaps, as well as helping current employees produce more without additional people. Generally speaking, cobots can be less expensive and easier to implement than an industrial robot, due to their size and reduced cost over traditional robotic systems.
Using a cobot for palletizing automation offers a huge amount of flexibility. While your cobot can be up and running performing a range of tasks in a few hours, one of the main benefits of this technology is how customizable it is. To get the most value out of your robotic palletizing system, you should look at making sure it is ready to perform at its best in your specific working environment.
For more information on our miniPAL®, please call one of our experienced service professionals or reach us by filling out the response form.